So, I was going through my routine on the days I get to use the internet - facebook, email, and then CNN/BBC news [trying to stay informed here!] and what do I see on the CNN website, but a link that brings me to the discovery that they are doing a spotlight on Namibia this month! They've written some really great articles about the Land of the Brave :) I already linked to the one about Sosussvlei, but they have several other articles that highlight a couple of the tribes in Nam and also discuss an approach to wildlife preservation. This chart they made of key facts is so awesome!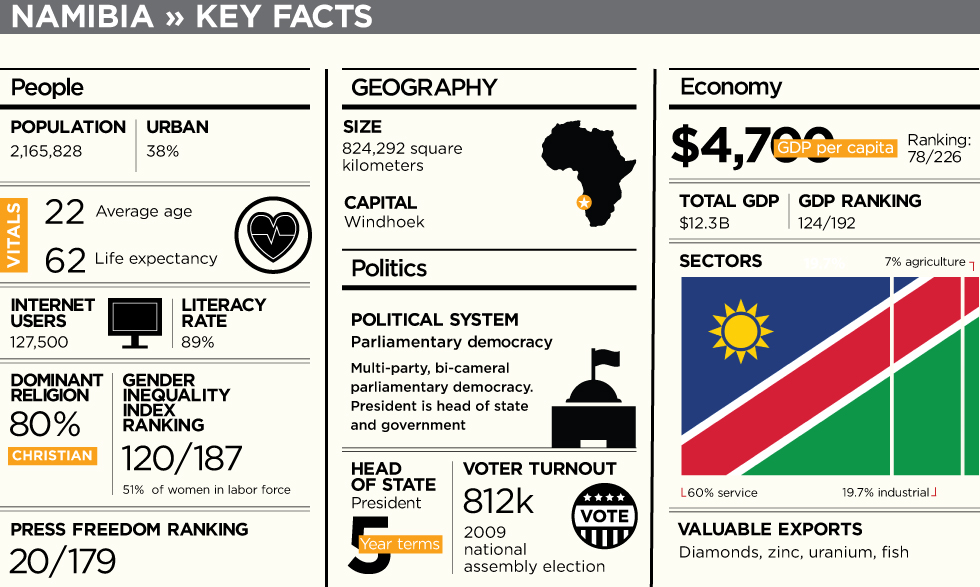 Produced by Kyle Ellis. Sources: World Bank; UNDP; CIA World Factbook, Reporters Without Borders, Electoral Commission of Namibia; UN Department of Economic and Social Affairs
Of their articles I think my favorite is the country profile, which does a great job at summarizing many of the current challenges facing Namibia: 50% unemployment, 15% AIDS infection rate, and one of the highest rates of income inequality in the world, in addition to the steps that the country is slowly taking to counter them. It also provides a solid history of the country - beginning with the German colonization, through the South African run apartheid era and Independence. And of course information about Namibia's natural resources is there too. Check check check it out!!!
Eye On Namibia
And the other articles:
Herero Traditional Clothes
,
Wildlife Conservation
,
The Himba